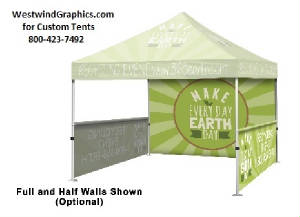 (Full Color)
Our 10 foot Event Tent is the next level in outdoor advertising. Achieve 360 degrees of branding with a custom full fabric dye sub canopy and hardware package.
Canopy is printed and sewn on Weather Resistant Tent Polyester. Print your brand message on each of the four peaks and valance panels. Our large format full color capabilities take artwork seam to seam unlike competitor tents that rely on small vinyl applications.
Heavy duty hex shape 40 mm. aluminum hardware gives the tent strength in outdoor installations. Telescopic legs allow you to adjust the height, and the interior lattice expands the tent interior with the crank of a handle. Each leg has a foot plate ready to be staked to the ground.
Price Includes: Graphic layout, (email us your logo, art or other info) Email proofs (2 included) ropes, stakes, and standard canvas carrying bag (no wheels).
Features:
High resolution digitally printed at 720 x 720
Dye-Sublimation Graphic
Scratch Resistant
Weather Resistant (water proof coated fabric)
Size and Weight:
Assembled (shortest) - 120"w x 120"d x 124.5"h
Assembled (tallest) - 120"w x 120"d x 137"h
Weight - 43 lbs (Hardware) + 8 lbs (Canopy Graphic) = 51lbs (Full Tent Package)
Optional Accessories:
Carrying Bag w/ Wheels
Sandbags
Half walls
Full walls
--------------------------------------
Tradeshow TENT KIT
Includes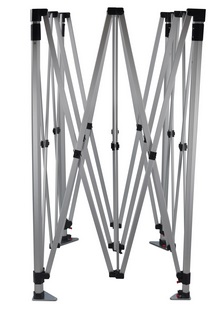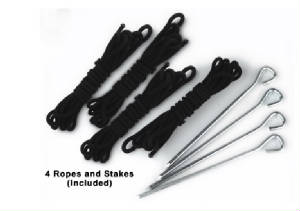 Rope and Stakes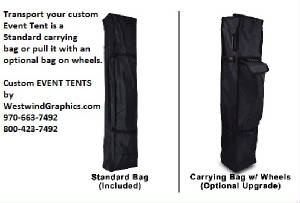 You receive standard canvas carrying bag on LEFT.
Optional Bag with wheels is available option.